Play the monthly builds and join RE:P's development journey!
---
Red Embrace: Paradisus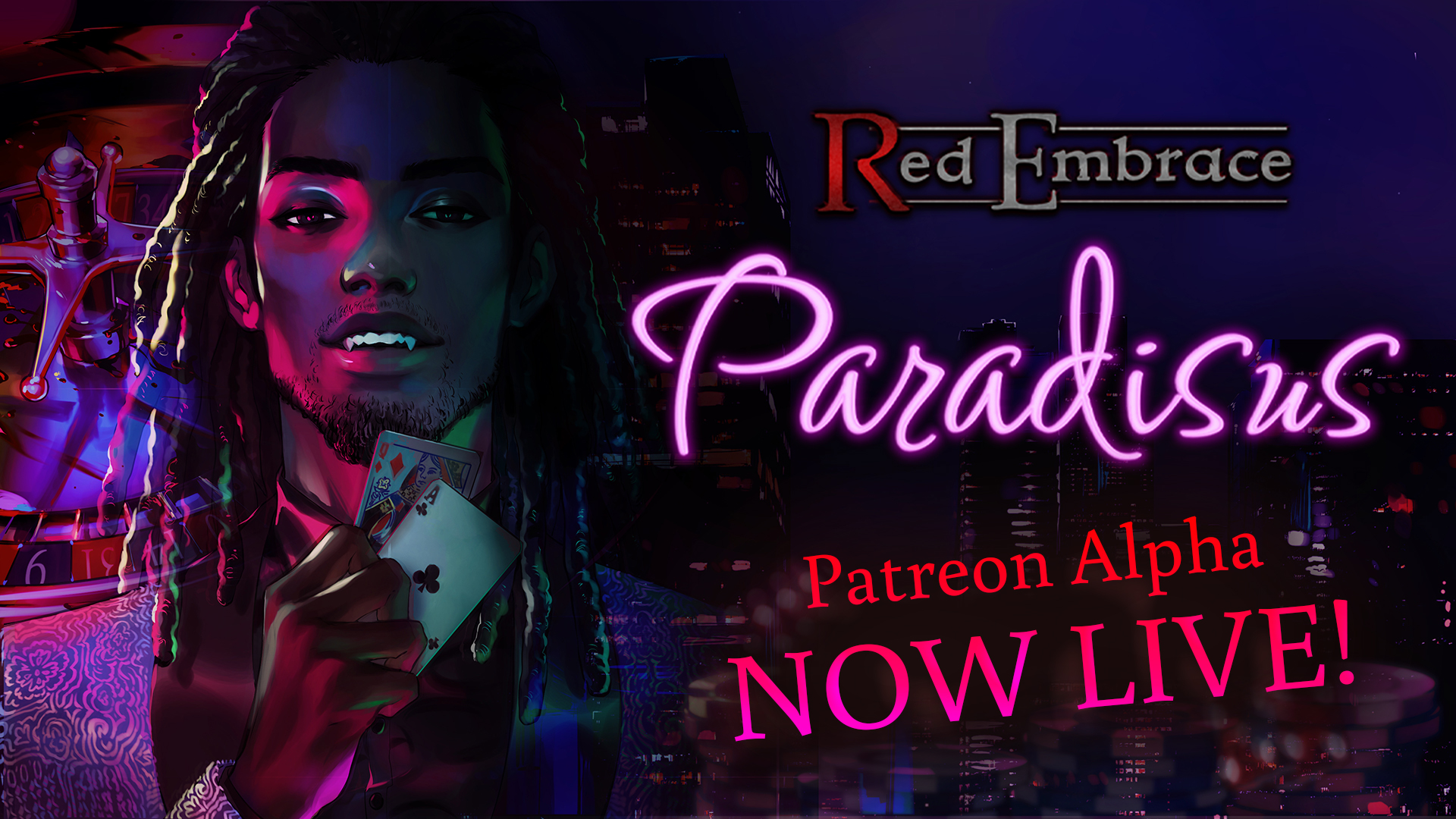 ♦ A VAMPIRE NARRATIVE RPG ♦
WISHLIST ON STEAM
FOLLOW ON ITCH

FOLLOW THE RE:P TWITTER

JOIN US ON DISCORD
If you haven't seen it yet, check out the announcement post for RE:P!
---
RE:P Patreon Ongoing Alpha NOW LIVE!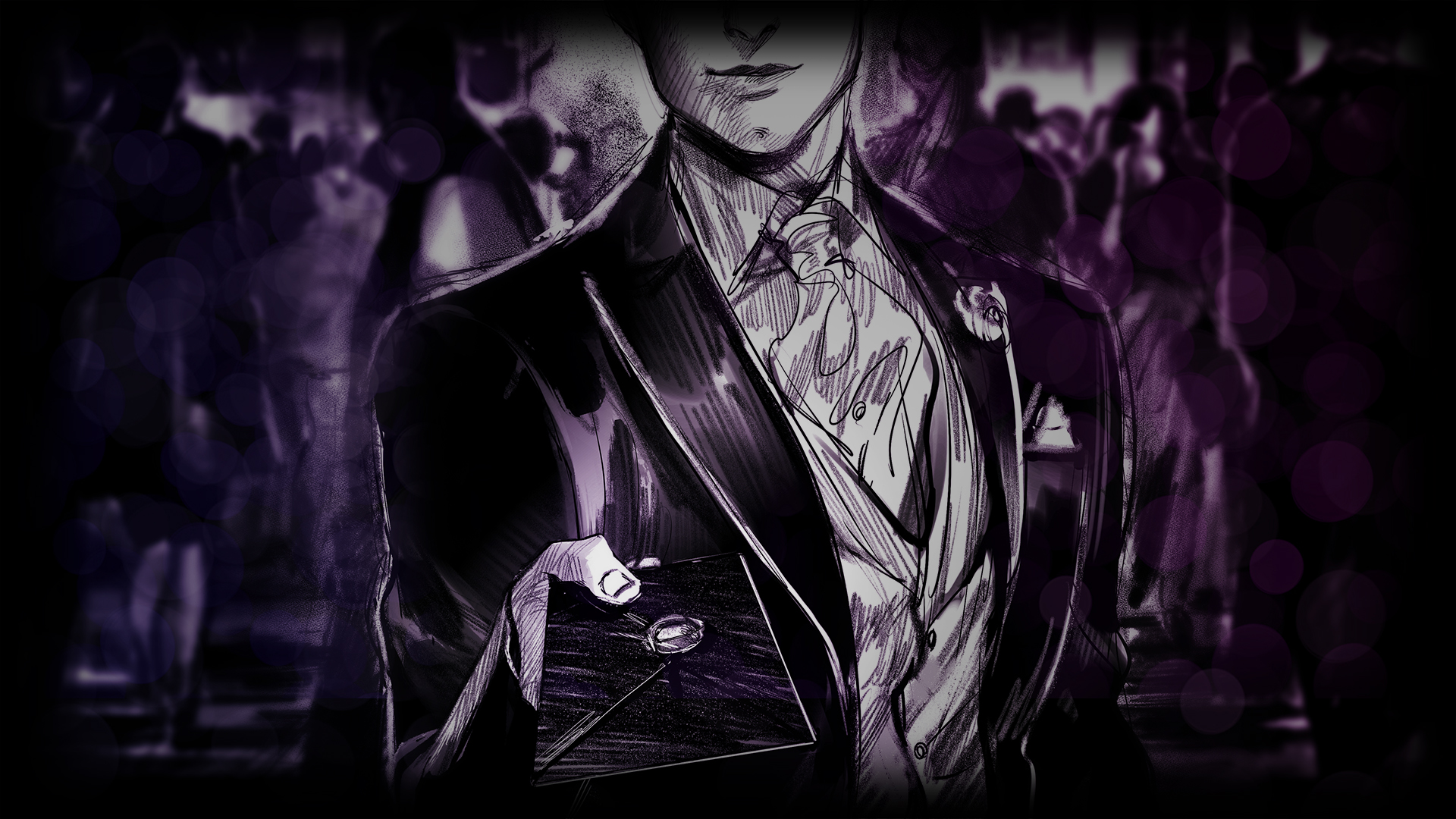 We're super excited to announce that the very first playable version of Red Embrace: Paradisus can now be accessed via our Patreon!
Our plan** for RE:P is to release monthly Patreon updates for the alpha, until we're ready to enter Steam Early Access—hopefully sometime in early 2023. The funds from Patreon will go towards RE:P's development, and the community will also be able to significantly contribute to the final game through feedback/suggestions/playtesting.
Thinking about signing up? Keep reading for more details!
**Plans subject to change
Alpha Details (important!)
Please make sure you read the details below before joining the alpha, so you know what to expect!
How will the alpha work?
All Patrons at the Orb ($5) tier and up will receive access to the monthly alpha updates (while still a Patron)
Joining our Discord will grant you a Steam key + access to Patron-exclusive alpha discussion channels
The alpha Steam key will also grant access to the full game upon release
Each month, we will release new content and fixes, as well as allow higher-tier Patrons to submit/vote on new design additions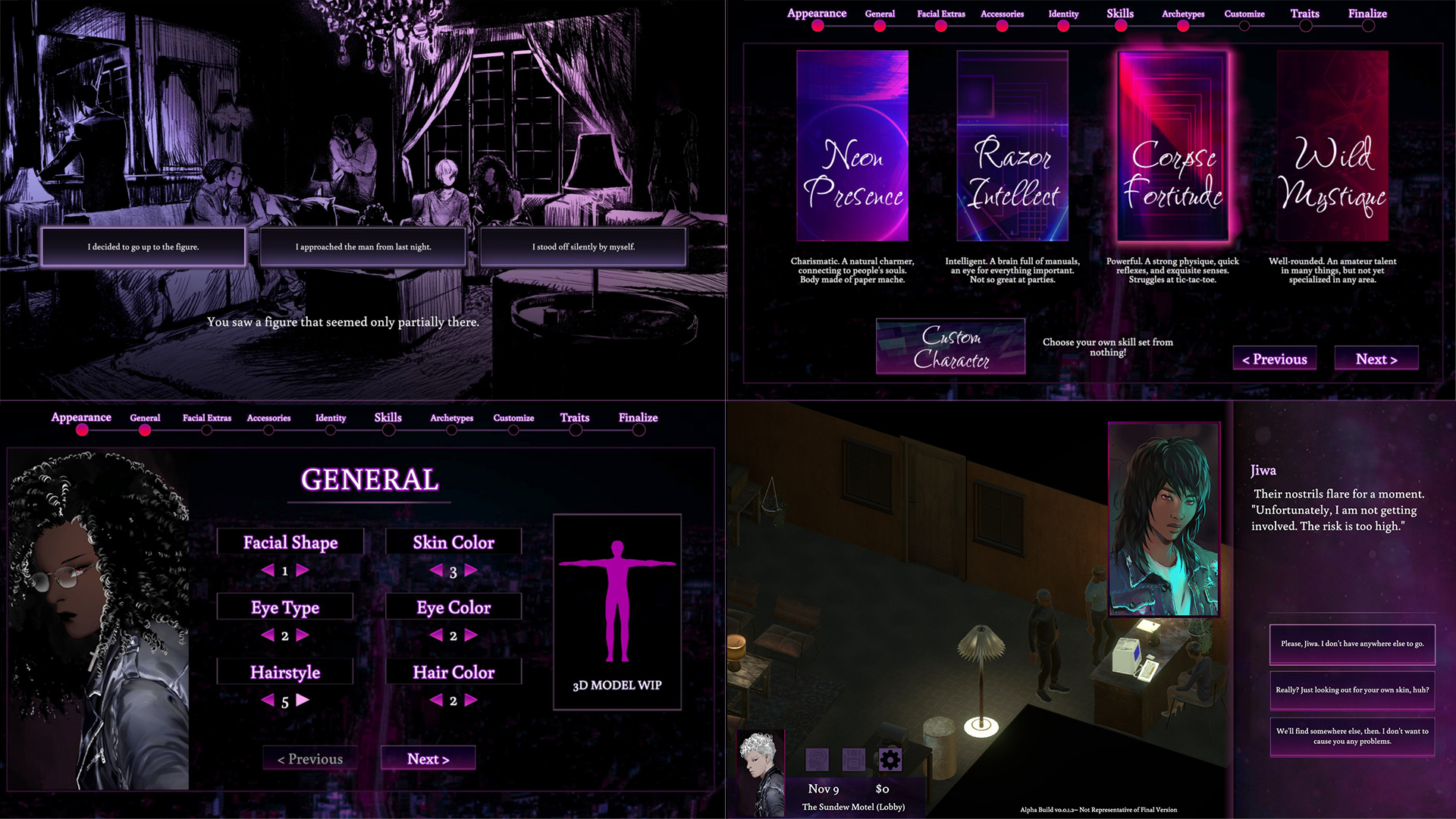 What should I expect in the current alpha (v0.0.1.1)?
It's important to note that this alpha is NOT for the complete game. Instead, we're putting out a very early prototype that initially features the game's intro sequence/first night. Future updates will gradually expand the amount of content, and the f ull game will be much, much longer.
We're quite pleased to say that some of Sh00's lovely art (the character and event artist from Red Embrace: Hollywood) is already in, though—so you'll get to enjoy shiny character portraits and a few CGs!
v0.0.1.1 Alpha Features
Approx. 45 minutes–1 hour of gameplay
~20% of full game skills/traits
MC portrait customization (more customizations planned, such as color pickers for hair and eye color)
3 locations to explore
2 NPCs to chat with
** All content (lighting, animations, music, 3D models, etc.) is a work-in-progress. It is not a complete and accurate representation of the final game.
Some roadmap features to implement next
Saving/Loading system
Inventory
Quest tracker and character profile
✞———————❖———————✞
For those who would rather wait for a more polished, complete version of the game—we'll still be posting regularly here to keep you updated on our progress! You're very welcome to join our Discord and participate in the community while waiting, too.
Thank you so much for your support thus far! Many exciting things are to come, and we can't wait to set out on this long journey together.
Questions or Comments?
Feel free to send in questions about RE:P and any AG/GAG games (or dev-related questions)! Our Ask Box is always open.
---