Celebrating one year of RE:H's release!
---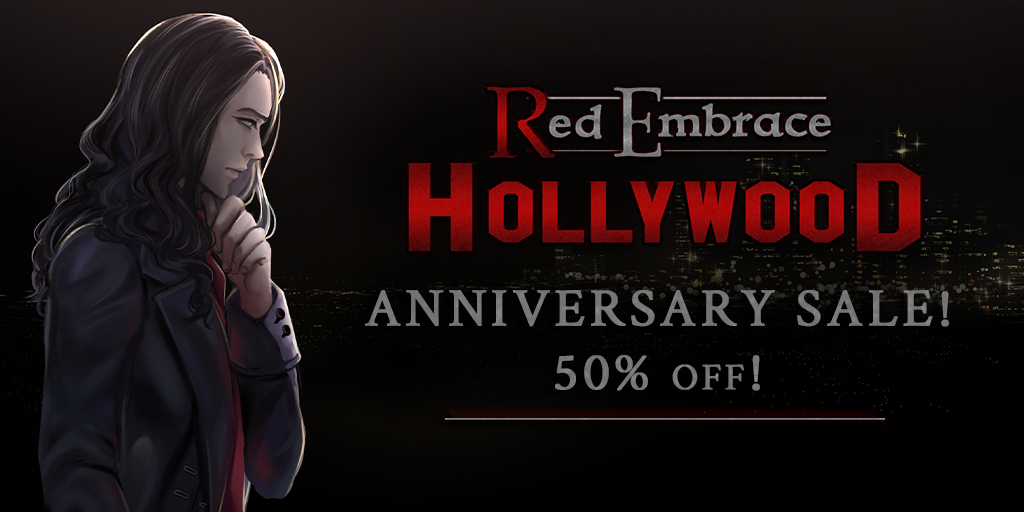 RE:H Anniversary sale
It's been a year since the launch of Red Embrace: Hollywood!
We've loved seeing all your feedback, comments, and fan works so much. It means the world to us that RE:H could conjure a spark for you.
A lot of our amazing community on Discord joined us after RE:H, so we want to extend a huge thank-you to you guys (and our old faithful fans who've stuck around since the start, too). You all are wonderful <3.
Just for today, the game and its DLC will all be 50% off on Steam/Itch, so if you have any friends who've yet to experience the suffering character-building experience that is RE:H, please share and spread the vampiric curse to more victims!
Much love, Dovah and Gamma
Questions or Comments?
Feel free to send in any SCU or AG-related questions! Our Ask Box is always open.
Q: How mean are you on a scale to 1/10?
—-The monster under your bed
A: 999999999.
Thanks so much for all of your amazing support, and stay safe out there!
---