Notes and reflection from exhibiting at MomoCon 2022 (Thursday, May 26 to Sunday, May 29) in Atlanta, Georgia.
---
MomoCon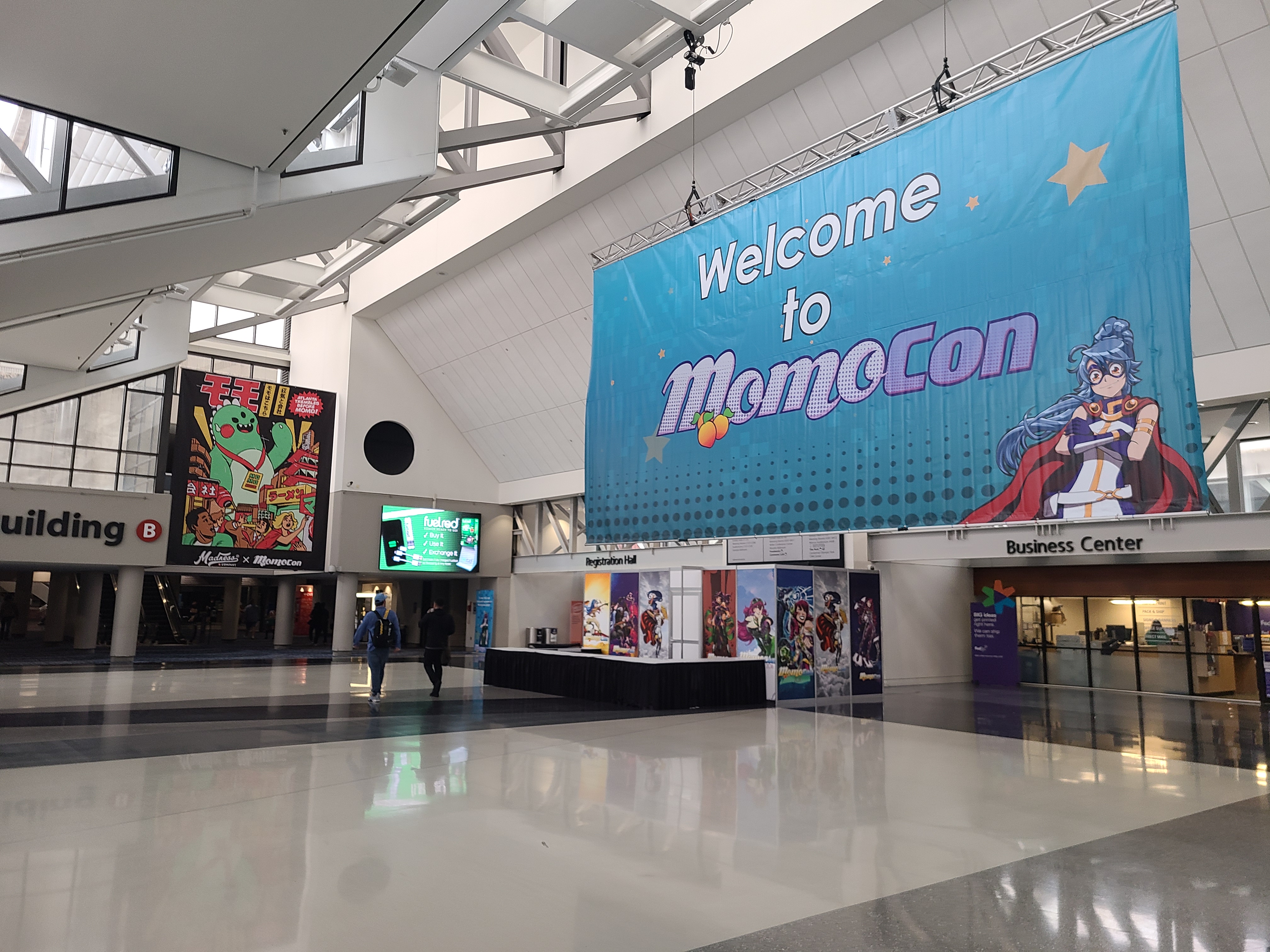 MomoCon is an anime fan convention located in Atlanta, Georgia, that has been running since 2005. We originally registered for their Indie Booth exhibitor pass in 2020, but it rolled over to 2022 due to the pandemic. We decided to register for this convention due to its anime-themed nature, hoping to showcase our more anime-styled visual novels: Chess of Blades, Red Embrace, and Red Embrace: Hollywood.
Our main goal going into the con was to sell merchandise and showcase RE:H.
Indie Games
MomoCon offers a special indie game developer exhibit space and location, and in previous years, there was also an Indie Game Awards showcase. The exhibit booth included a 10x10 space, 6'x2' skirted table, 2 chairs, 5amp power hookup, 4 MomoCon 4-day passes, WiFi, 3ft low curtains separating booths and the hallway, and a tall 8ft curtain at the back (separating our booth from the one behind us).
There were 11 indie developers + the Indie Cluster (5 developers who shared a larger space), with a mixture of tabletop and video games.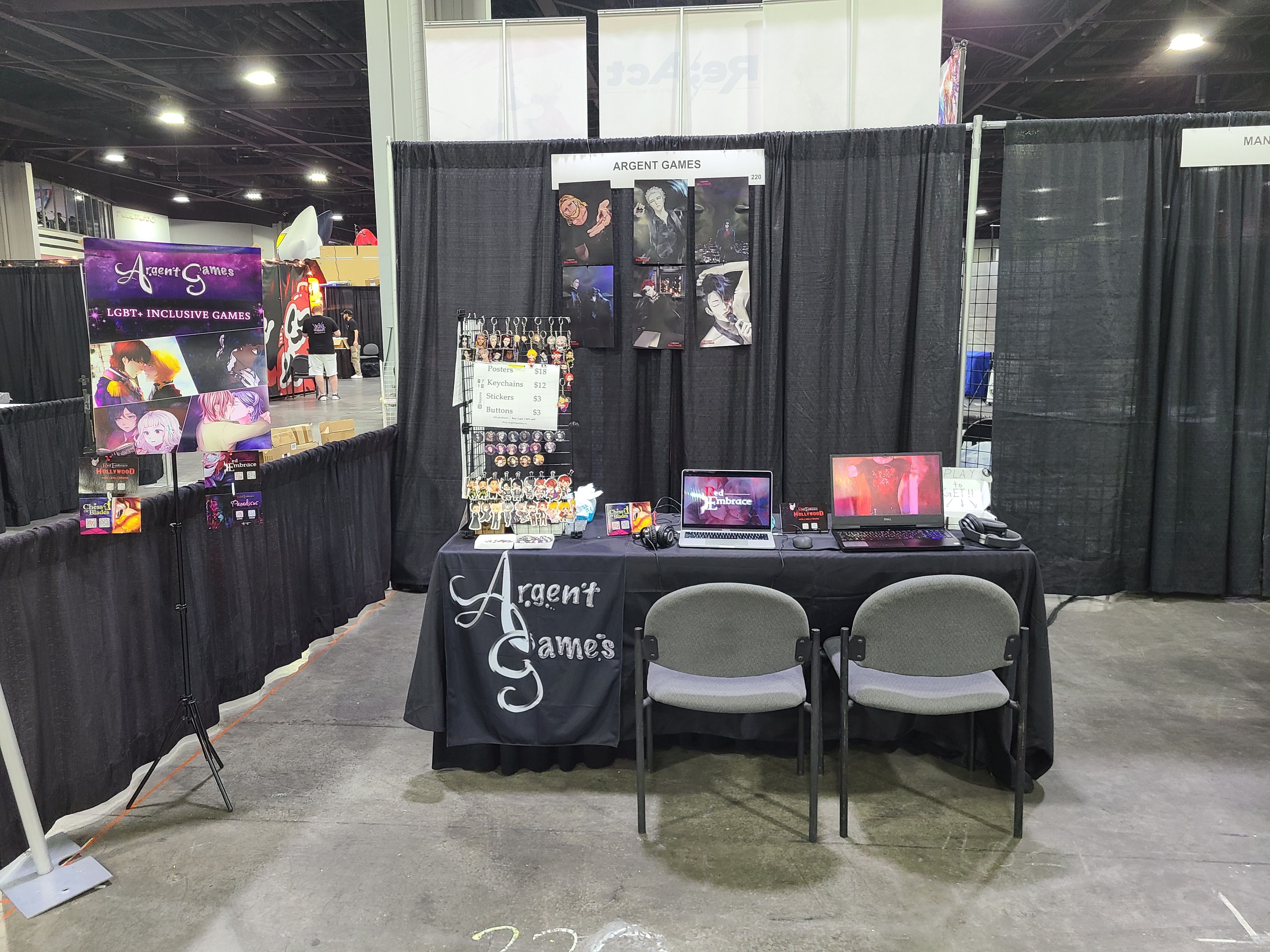 Costs
$600 for the exhibitor booth
$900 for flights (1 checked baggage on Delta; Seattle ==> Atlanta, Indianapolis ==> Atlanta, 2x Atlanta ==> Indianapolis)
$715 for the hotel
$42 for travel to/from airport (we took 1x Lyft and 3 tickets on the Marta public transportation system)
$285 for food and drink (prices were quite high!)
$202 (\$165 for posters and postcards, $37 for shirts)
Total: $2707
Packing List
2x hardware (laptops, usb mouse, mousepads, headphones)
merchandise (posters, keychains, buttons, stickers, merch-making tools)
Square Terminal (for taking credit card payments)
promotion materials (~4-5 inch stack of postcards, ~4 inch stack of business cards, 2x RE:H shirts)
tablecloth, AG table runner
postcard stands, wireframe grid rack
power strip, extension cable
zip ties, binder clips, paper clips, single hole punch, scissors, double sided tape, duct tape, permanent markers
music stand (as a poster stand)
masks, disinfectant wipes, hand sanitizer, water bottles
Would have been nice to pack…
large game banner (although we were told we wouldn't have tall backdrops/curtains…)
TV/large monitor/projector
Didn't use…
packed 9 wireframe grid pieces and used 7 (6 for the merch stand, 1 for the poster stand)
Lessons Learned
Game
Remove quit to desktop buttons. Players wanted to be helpful after playing the game (leaving early, completing the demo) by exiting out of the game, but then it required us some time to boot up the game again!
Skippable OP located at end of demo. We moved the RE:P OP to after you ride the car with Markus instead of after the intro nightclub scene. We made the OP in RE:H unskippable unless you hit a special button, thinking it would be a nice finish to the demo. However, the OP felt extra long, and most players saw it as indication to leave, removing the headphones soon after it started playing.
Double check lighting and visuals on the playable computers! We did a last-minute build of RE:P for Mac and didn't realize that the lighting was oddly dark, rendering the game almost completely unplayable. Luckily, the first person to play was our new friend, the Aquadine dev (see Special Thanks).
Add a call to action to a game build. For RE:P, after the first day, we added a screen at the end of the demo for players to enter their email to receive information about the game. However, the demo was kind of long, and few people entered in their email despite expressing their enthusiasm to us.
Switch the idle/screensaver computer screen to the character customization screen and/or main menu screen of the game. We were originally looping the OPs of games, but people were confused about being able to come and play games since they just saw a movie.
Make sure game builds are on the local computer hard drive before entering the convention venue. Our USB drives decided to fail when we were transferring them on site!
Hardware
Dovah's laptop overheated and bluescreened a few times. We needed to add some objects underneath it to increase airflow.
No wireless headphones. We wanted to use wireless noise-canceling headphones (the noise-canceling feature doesn't work if they are plugged in), but someone accidentally walked off with them, and we didn't notice until the next player came by. Thankfully, they returned the headphones to Lost and Found by the next day, but it gave us a fright.
While players could use the laptops just fine, and their friends would watch over their shoulders, passerbys were unable to see what people were doing at our table. We really need to get some larger screen or projector for the games so that passerbys can see what current players are doing in the games. A projector would be really nice for packing purposes, but there is a slight issue if you can't confirm you'll have a backdrop curtain to hang things from…although one could pack/ship a backdrop curtain 🤔.
Promo
We last-minute ordered two custom RE:H promo shirts from Teepublic. We forgot to add any branding or logos to the shirts. In the future, the game name and the company name should be displayed somewhere on our shirts. We should also order more than a single shirt because we had to be careful about keeping them clean. Luckily, it wasn't too hot and muggy, so they didn't get smelly! It would also be nice to have a regular generic shirt that only features the company name (instead of a game-specific shirt) since we ended up showcasing several games.
We were missing a poster that listed our basic information (name, social media, website).
We ran out of RE:H postcards!
The LGBT+ Inclusive Games poster was ineffective. Few people saw/mentioned/stopped by the booth because of it.
Booth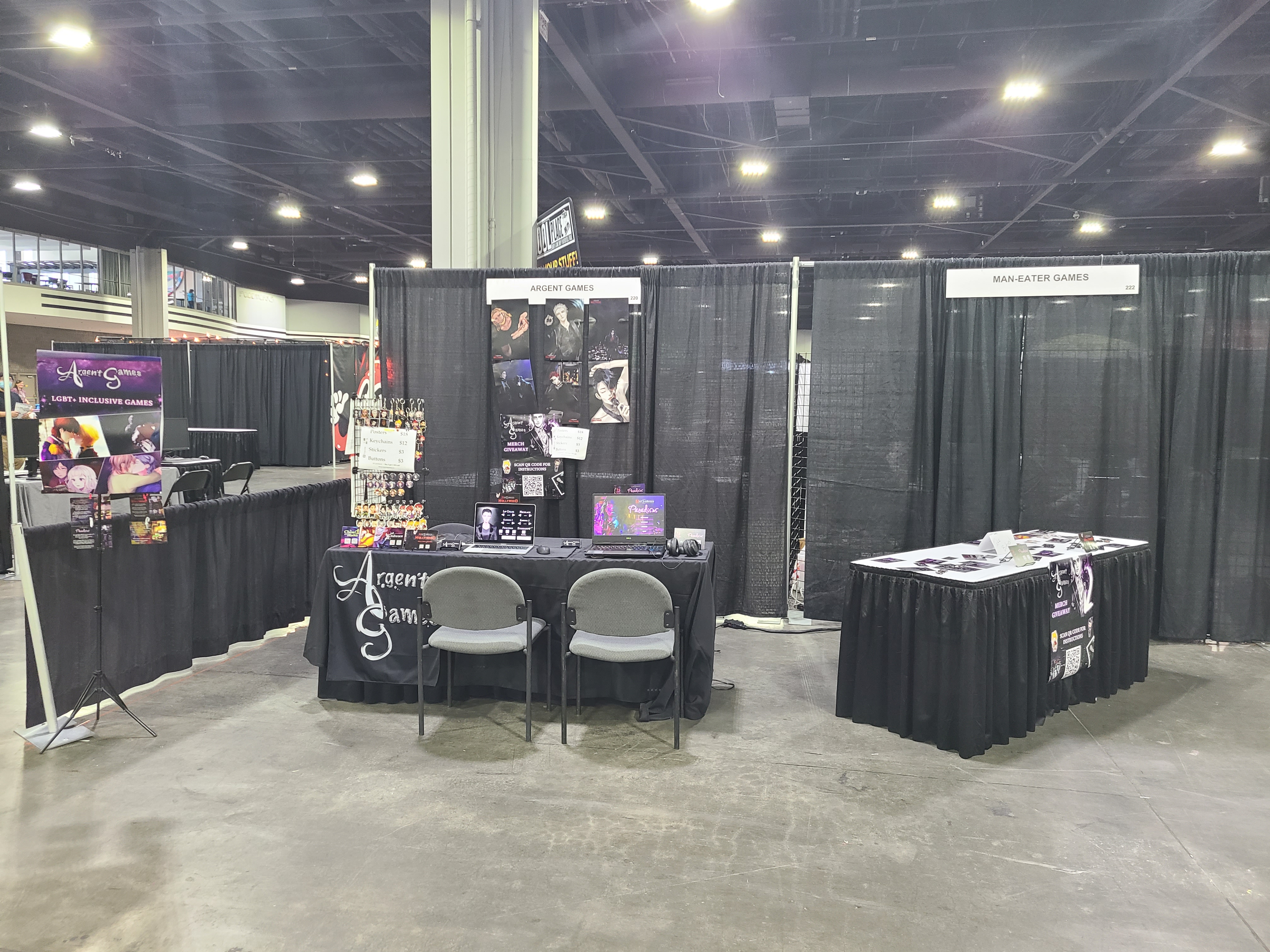 We set up our single provided table with two laptops, taking up 2/3rd the space, and a little merchandise showcase stand on the rest of the table. Though it didn't look particularly crowded, the setup was sending out mixed messages. If people came by to look at the merchandise stand, we would approach them asking if they wanted to learn more about our games and/or play the games. On the 2nd day, we took the table from next door (that team didn't show up) and spread out postcards, buttons, and business cards for people to drop by for shorter, more indirect interactions. This seemed to work really well, where the 2nd table had a singular express purpose (and also was more spacious, emitting a comfortable feeling). If possible, we will try to not combine multiple goals on a single table even if there is physical room–the mental space isn't there.
On the 2nd table, though we had postcards and buttons strewn about, people were confused about being able to take them for free. Even after adding a sign saying "FREE!!" or "TAKE BUTTONS!!", people still asked us if it was alright to take stuff off the table!
Some other teams used jars to hold their free promotional materials, which people seemed more inclined to approach, although another team doing so said they still needed to add a sign saying the items were free for the taking.
Realize that we are on a corner! We should have removed the side low curtain and placed the extra table facing out that way. Also, why is there no dividing curtain between the two booths…?
Add some sort of game name/poster to the device that people are playing on so passerbys know what people are playing!
General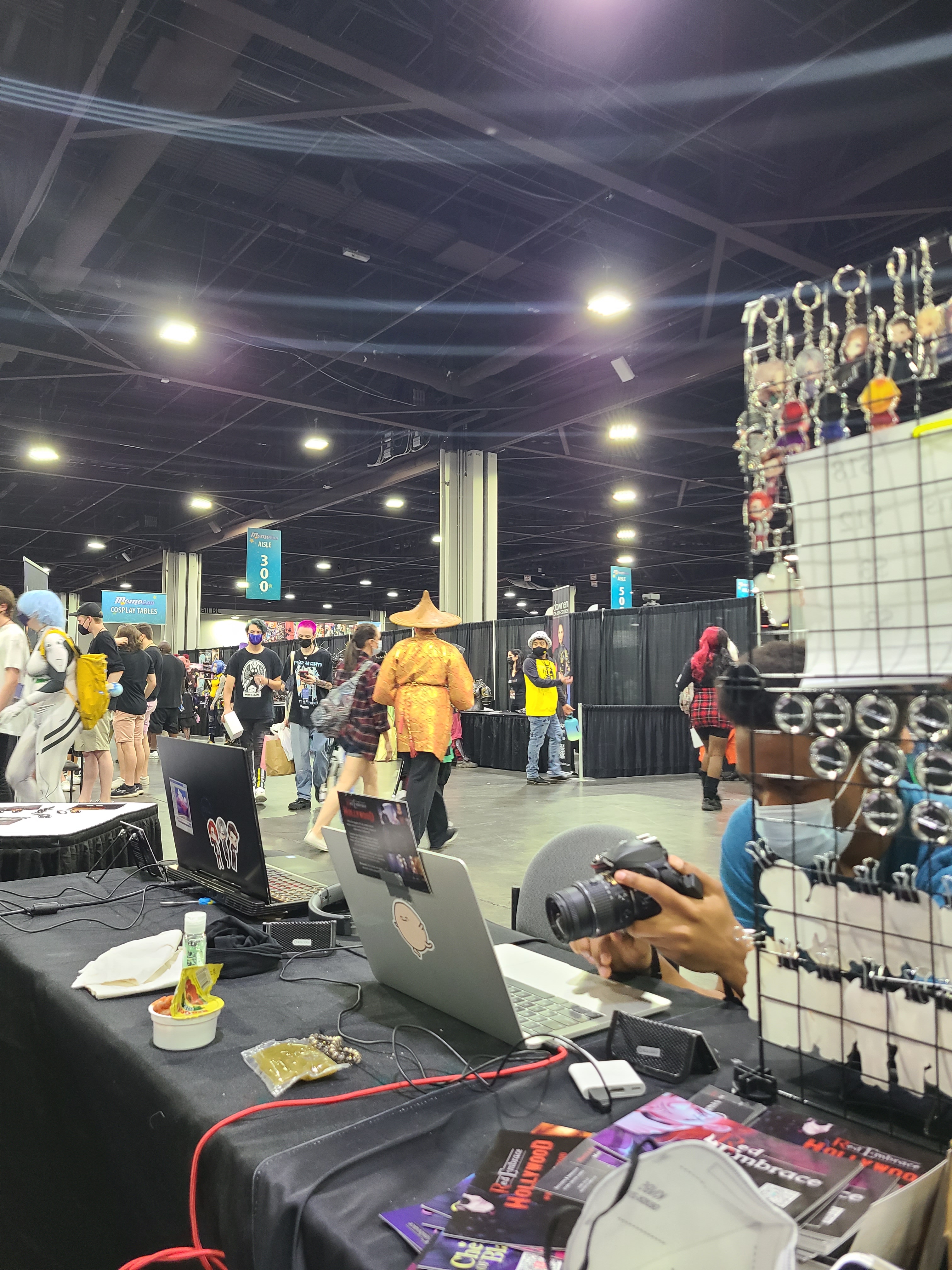 The indie game area did not get very much foot traffic. We were located between the fan car showcase and the artist alley/exhibitor hall, right in front of an exit door. People zoomed past the sides of our alley to go to the artist alley, and they made a beeline for the exit (or into the main hall for wrestling or other programming) if they walked through our alley. There was also no signage about our area being for indie games, and the official area map didn't seem to list the indie exhibitors. If we went back to MomoCon, we would probably pay the full price for a proper exhibitor's booth in the exhibitor area because people are heading there with the mindset of purchasing items.
The Square Terminal reboots every night (not optional) to install updates, and it requires an internet connection after 24 hours of offline mode. Make sure to turn it on and leave it on way before you need to use it!
Our giveaway was an absolute failure. We failed to direct people's attention to our giveaway poster, and nobody scanned/looked at the poster on their own. The whole giveaway setup was also bizarrely roundabout/complex. 1) We need to remember to tell people to enter the giveaway. 2) The giveaway poster needs a human-readable link for people to enter in on their devices (instead of only a QR code). 3) The instructions on the poster need to be much more explicit (like and retweet!) instead of our weird "follow instructions in the QR code" (the QR code led to a Google Doc that we updated because we wanted to run multiple giveaways, and we couldn't find a free service that allowed dynamic QR code links without redirects).
Duct taping posters to the curtain worked for a short amount of time, and then they kept falling down.
Duct tape » double sided scotch tape. It's much easier to remove from posters (although there was a little bit more residue), and it is stronger.
Soggy cardboard doesn't work for stabilizing originally rolled-up posters on a stand. We packed our posters rolled up and some thin cardboard strips (salvaged from packing boxes) with the intention of building a frame to straighten out the posters. The cardboard did not provide the structural integrity we thought it would (even though we tested it at home first, and it worked just fine). Taping the posters to some wireframe grids worked a lot better, but it still wasn't great. After two days, the posters started slipping from the wireframe. The music stand is nice for being light and folding up much smaller than a poster stand, but it didn't look too good for the double-sidedness. The poster on the back was angled slightly towards the ground and didn't sit flat. We need to brainstorm a new design for our next poster stand.
We probably should have tried to approach the other indie devs on day 1 instead of running out of the convention center as soon as closing time hit, but we were too emotionally and physically drained from our first, very slow day.
It's probably not worth being on our feet 95% of the time trying to convince people to engage with our booth or take postcards? People seemed to come up to the 2nd table more when we were on lunch break (or looked like we were actively distracted) or when only one of us was at the booth. We tried sitting by the sides of the table (when our feet got tired, after we stole the chairs and table next door), but that didn't seem to have much of an effect. Other booths didn't seem to be standing and approaching passerbys as much as us.
Consider renting peripherals and furniture locally (e.g. TVs, additional tables, chairs, rugs, etc.)
Consider shipping stuff to the hotel and renting a U-Haul (or other vehicles) to do load-in (drive the vehicle right up to the booth and unload) instead of spending 14 hours packing and stressing about luggage weight limits.
The provided WiFi (indie devs had their own network, separate from exhibitors and others) was awful. We ended up using Verizon mobile hotspot the few times we really needed internet, but it was definitely unreliable.
We thought we would be mainly showcasing RE:H and some rotation of COB/RE. We ended up mostly showing off RE:P and RE:H. At one point, we wanted to show RE:P on both computers, but then we ran into Mac color display issues…
We were really impressed with how seriously MomoCon took health and safety measures. The volunteers aggressively chased down and hollered for specific people to put on masks and security made sure(up to 6 times!) we had on our badges, specifically the exhibitor ones that allowed us into the exhibit hall before it opened.
Residence Inn breakfast sufficed for lunch, so we only spent money on dinner :)
Final Thoughts
This convention was expensive, both in money and time. Flight prices were double what they would have been in earlier years. The hotel was reasonably priced. We didn't get as much out of it as we had hoped, but we did learn a lot with respect to the general con-going experience/process. We're taking this knowledge with us to Indy PopCon, and we hope to catch you there!
Special Thanks
Everyone we met was super nice, and we got dinner with some fellow indie devs. Thanks everyone for helping make our MomoCon2022 experience!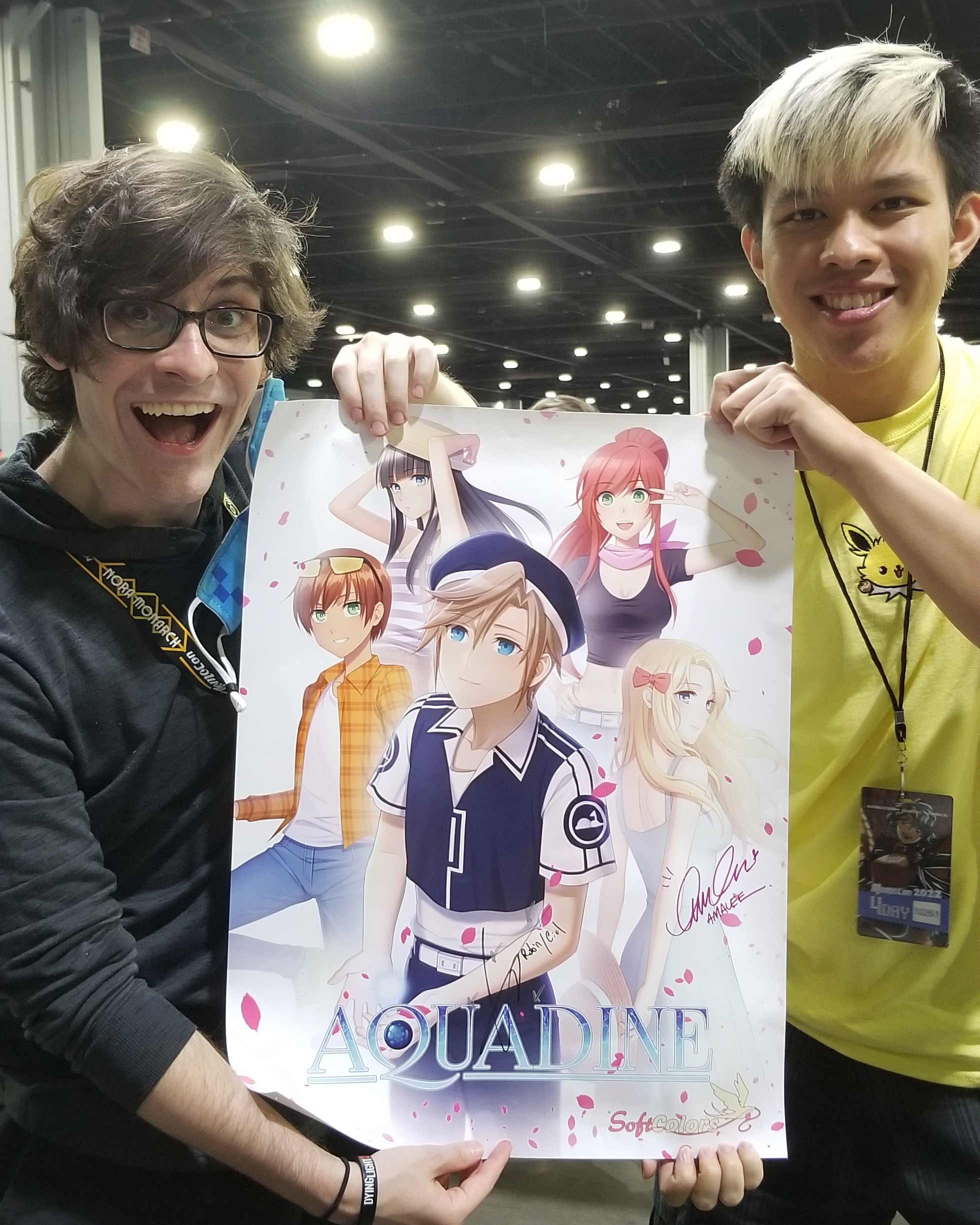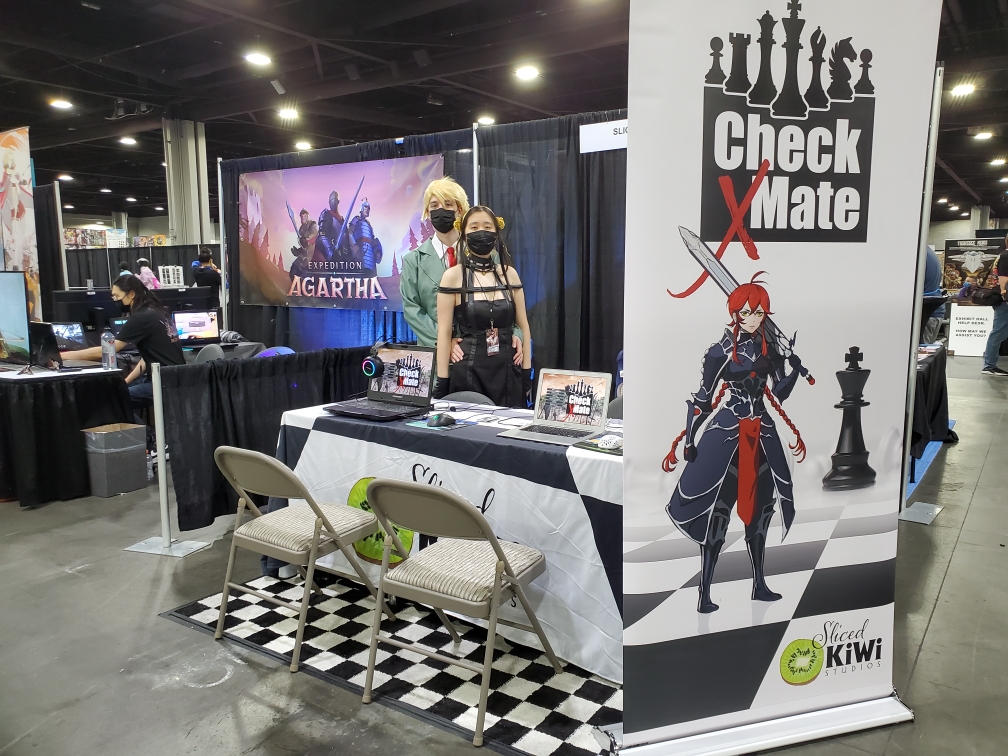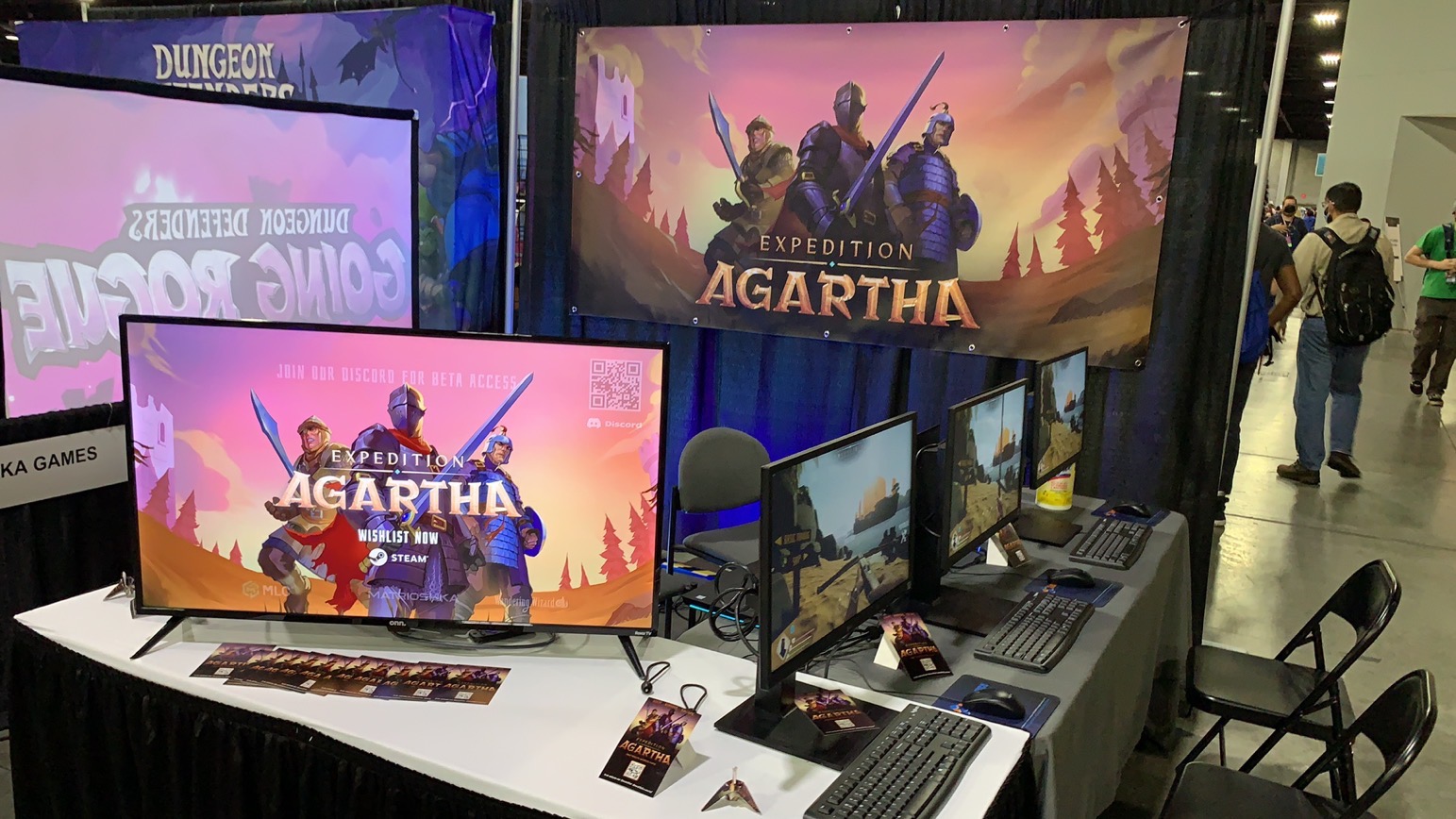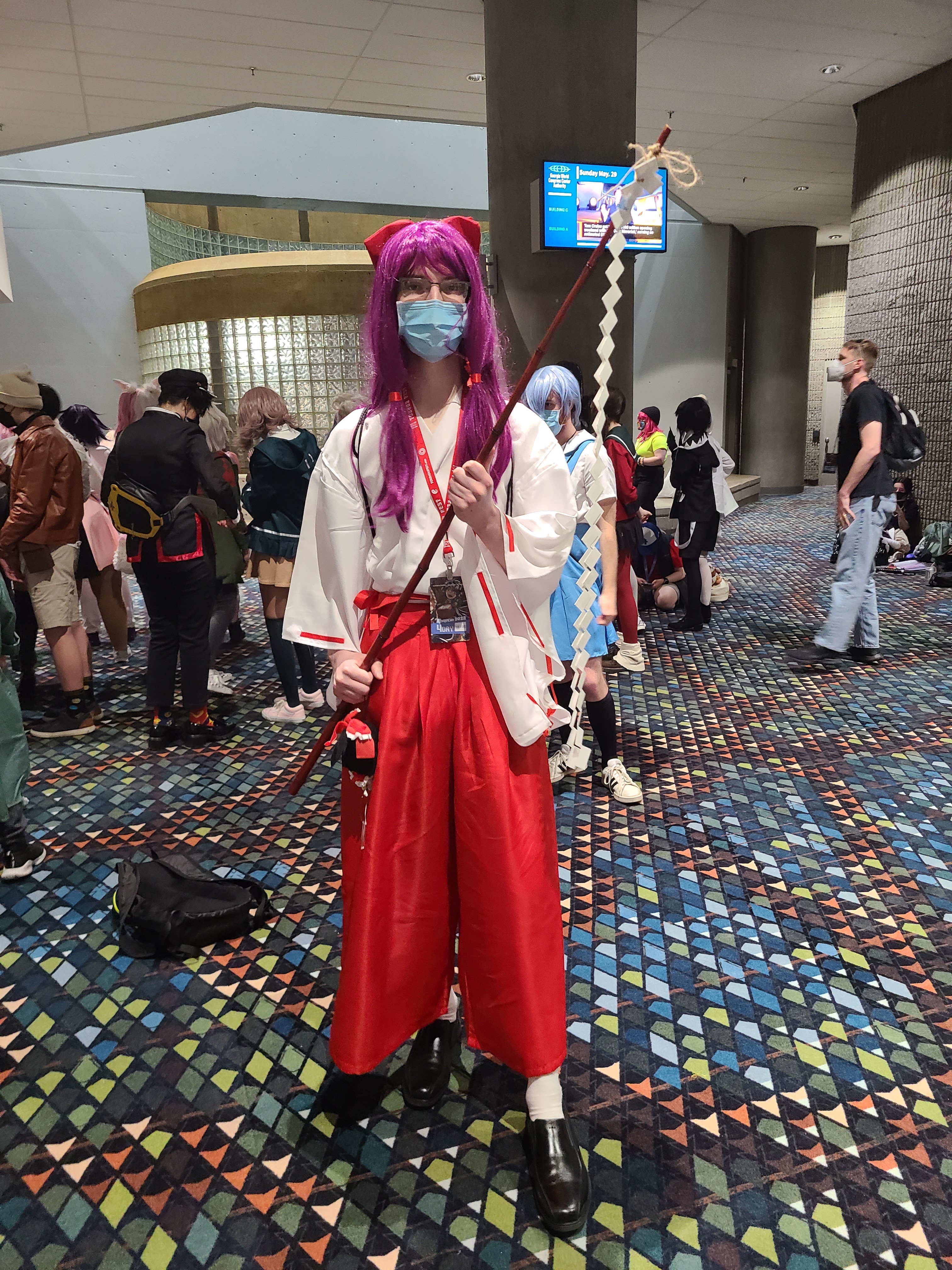 Misc pics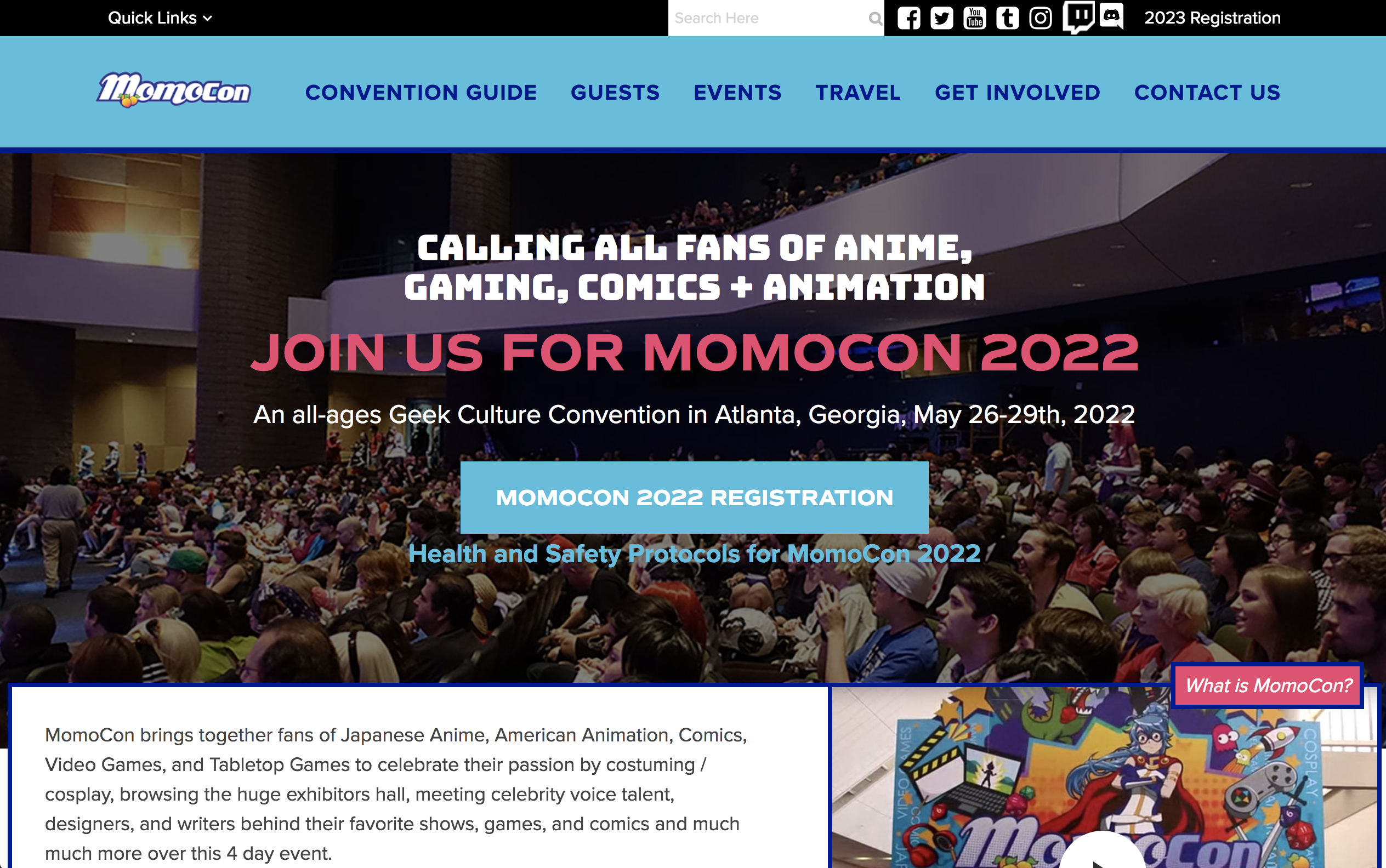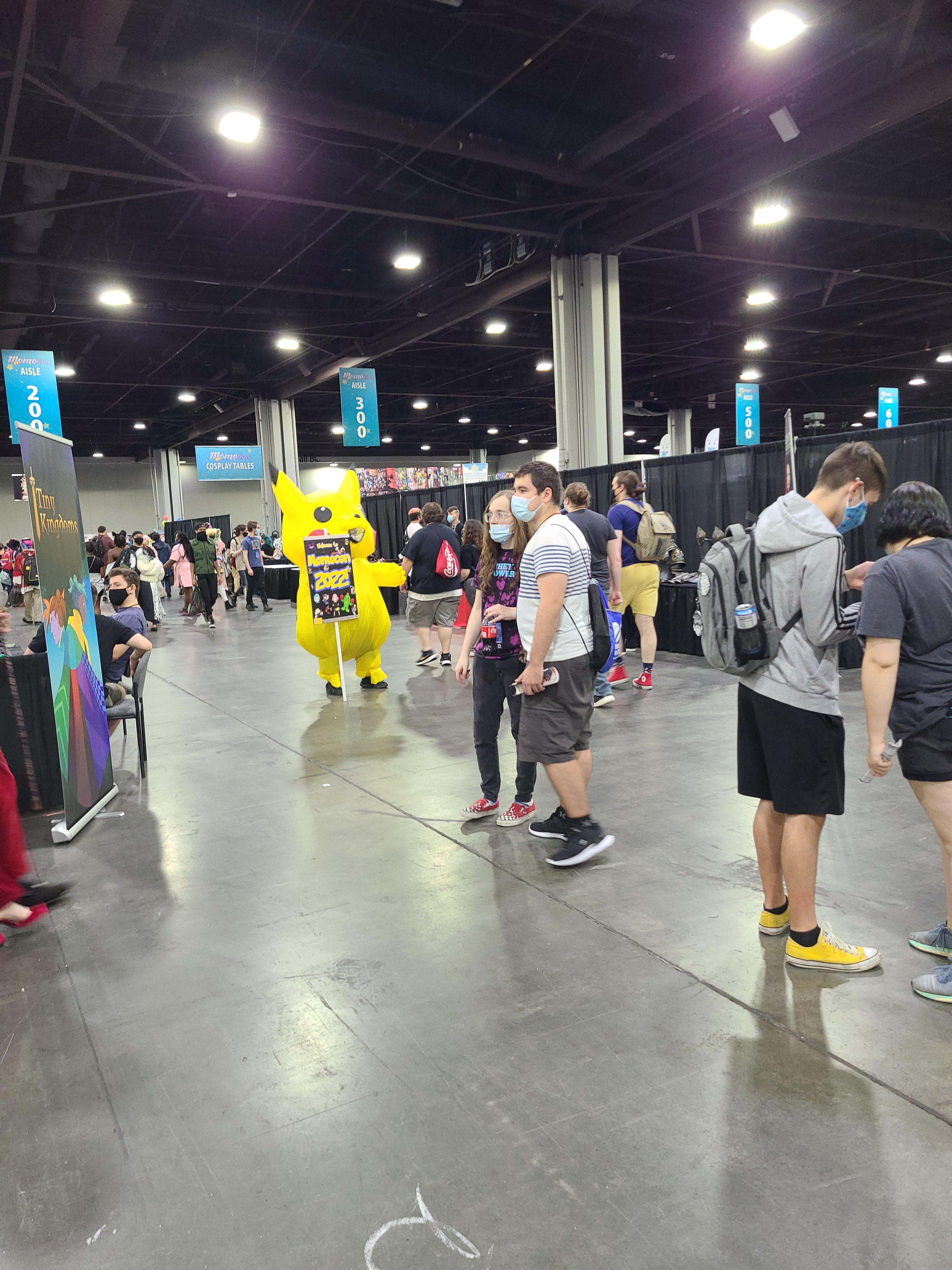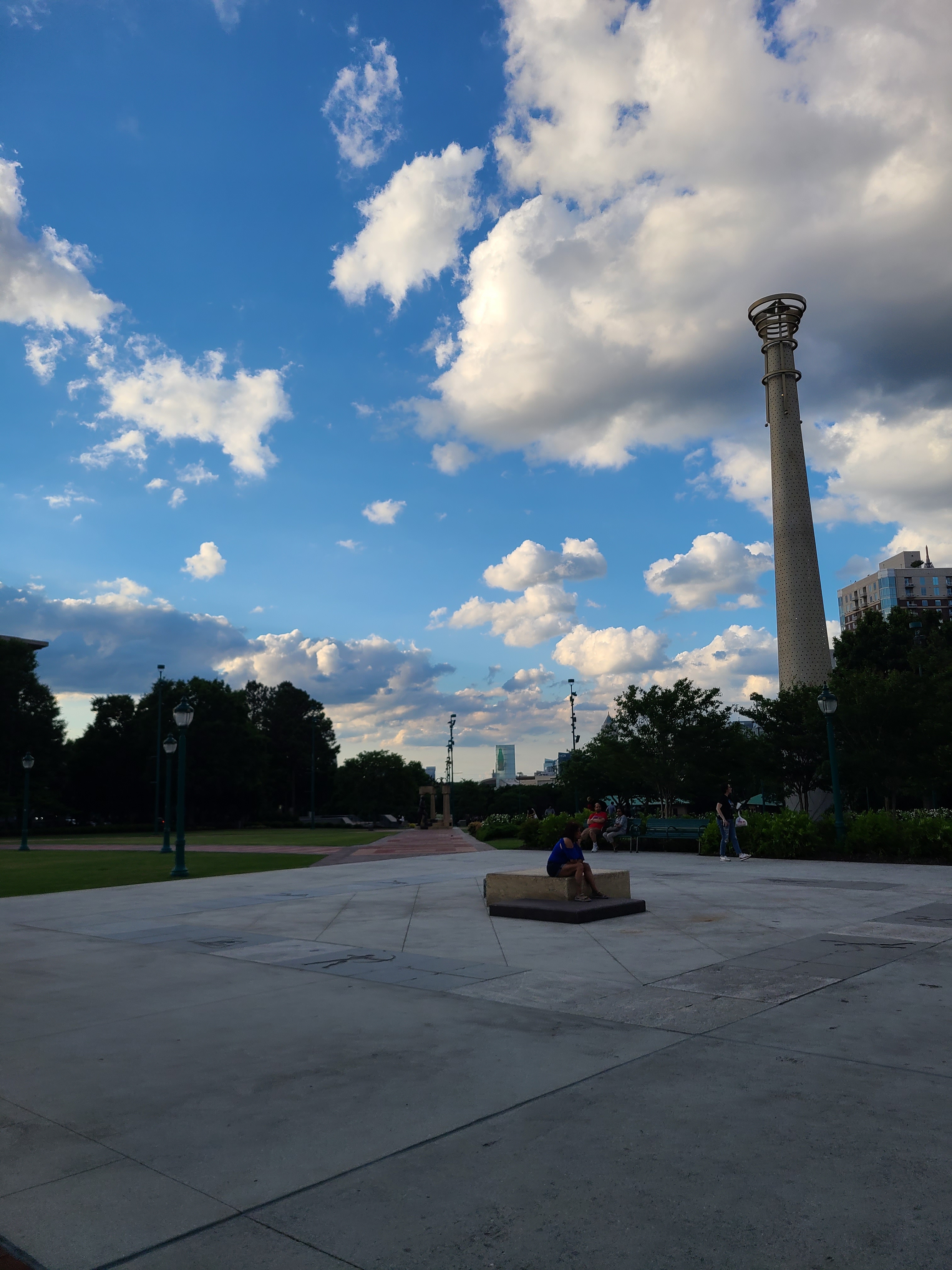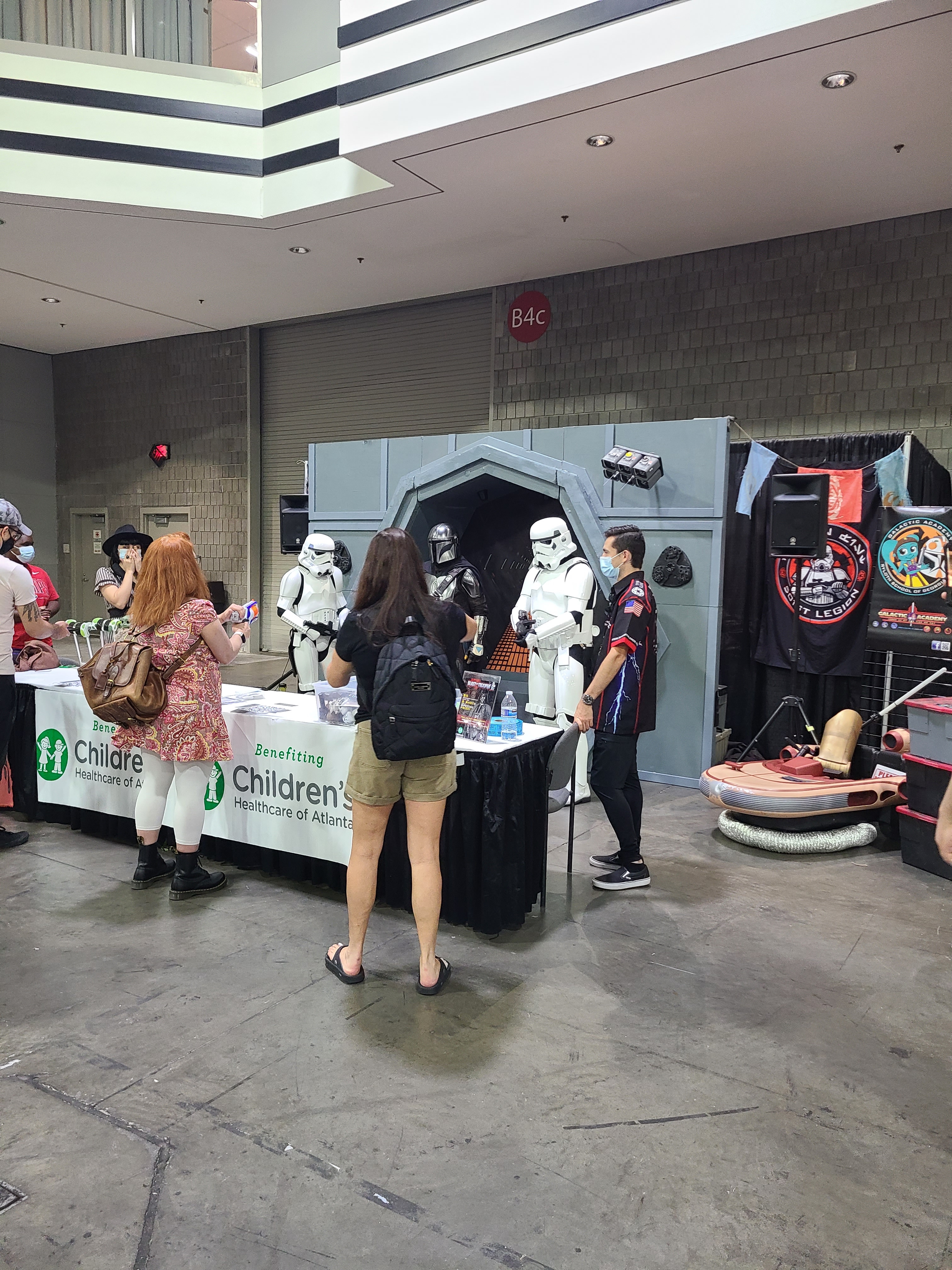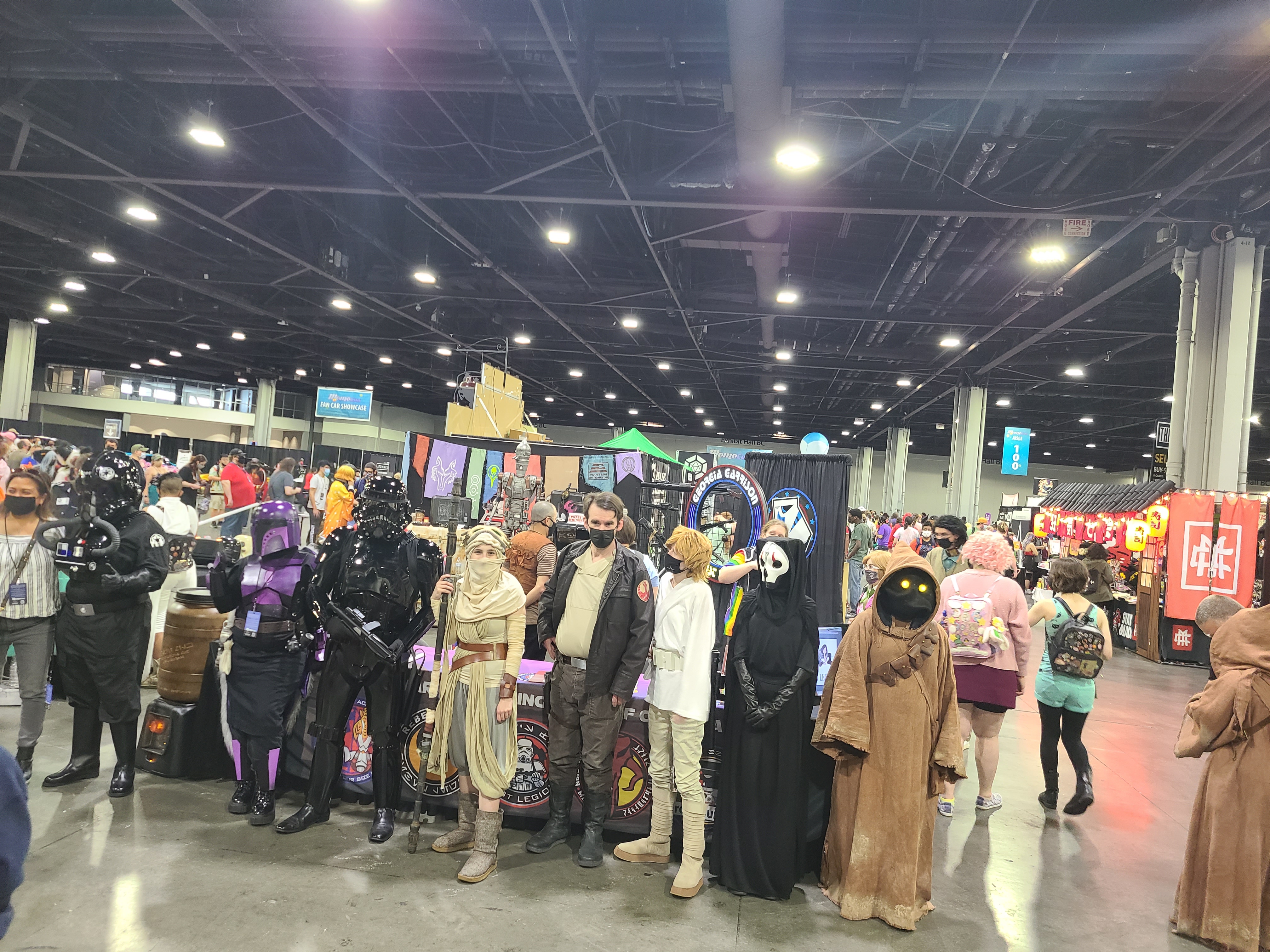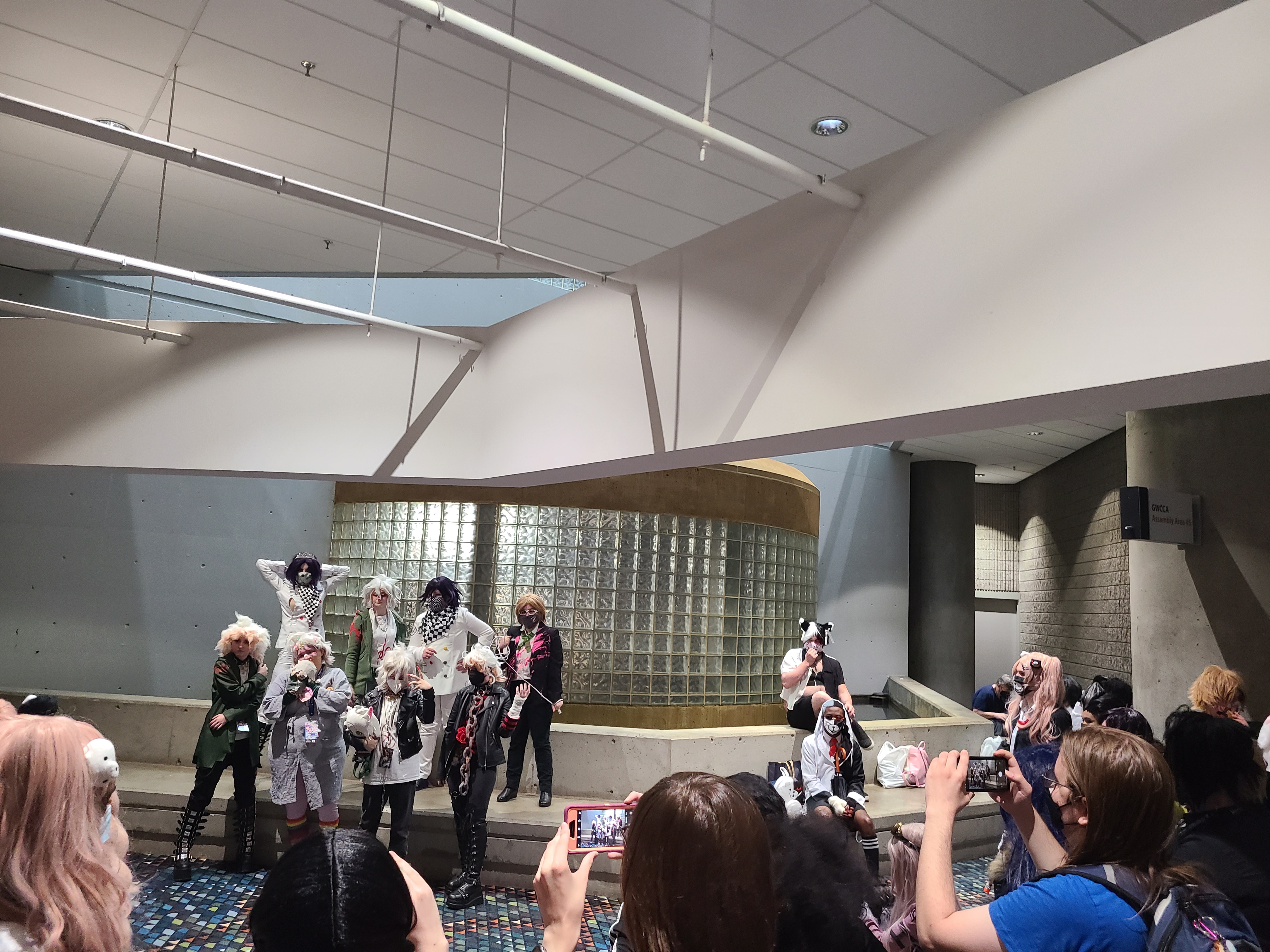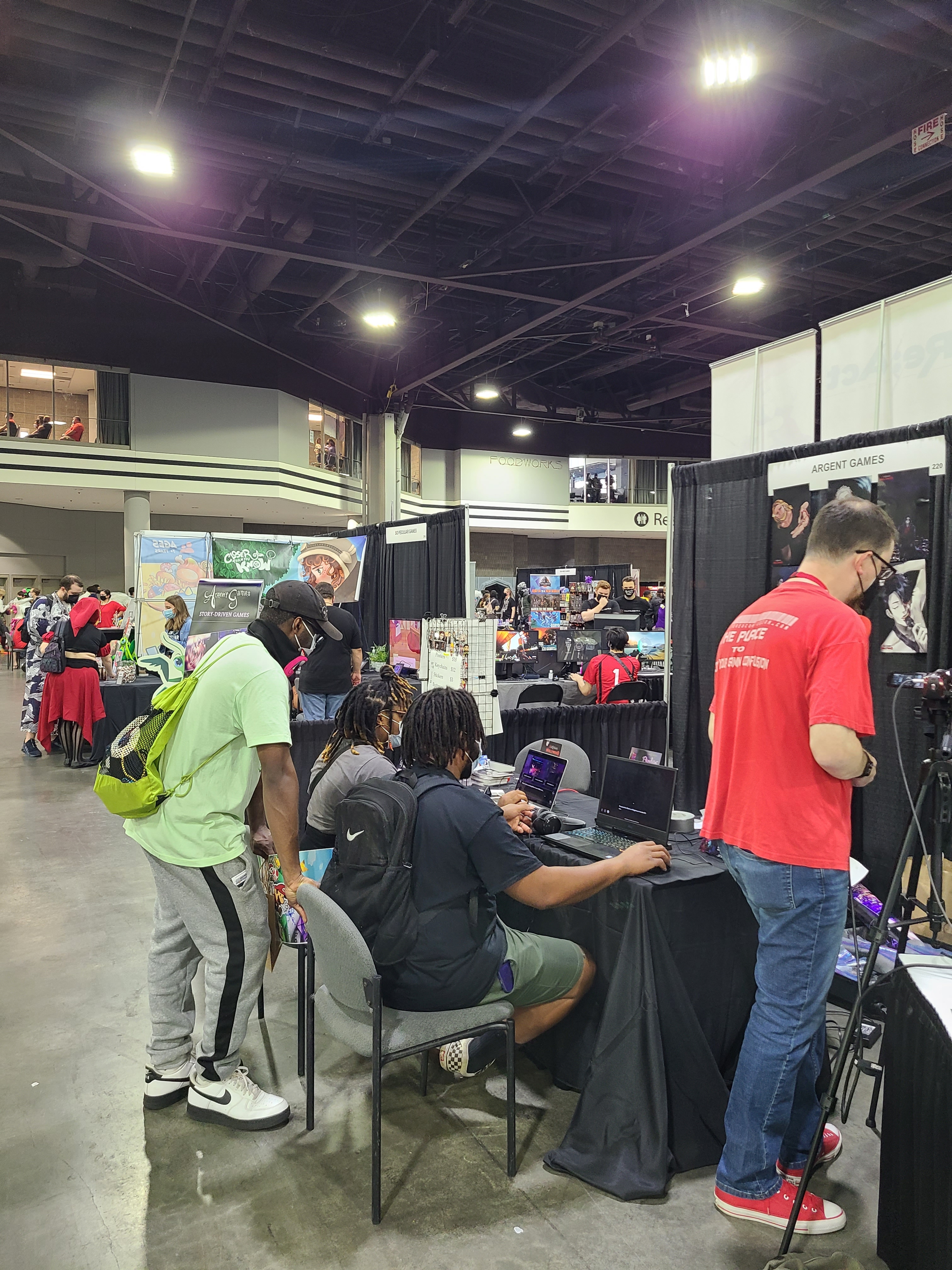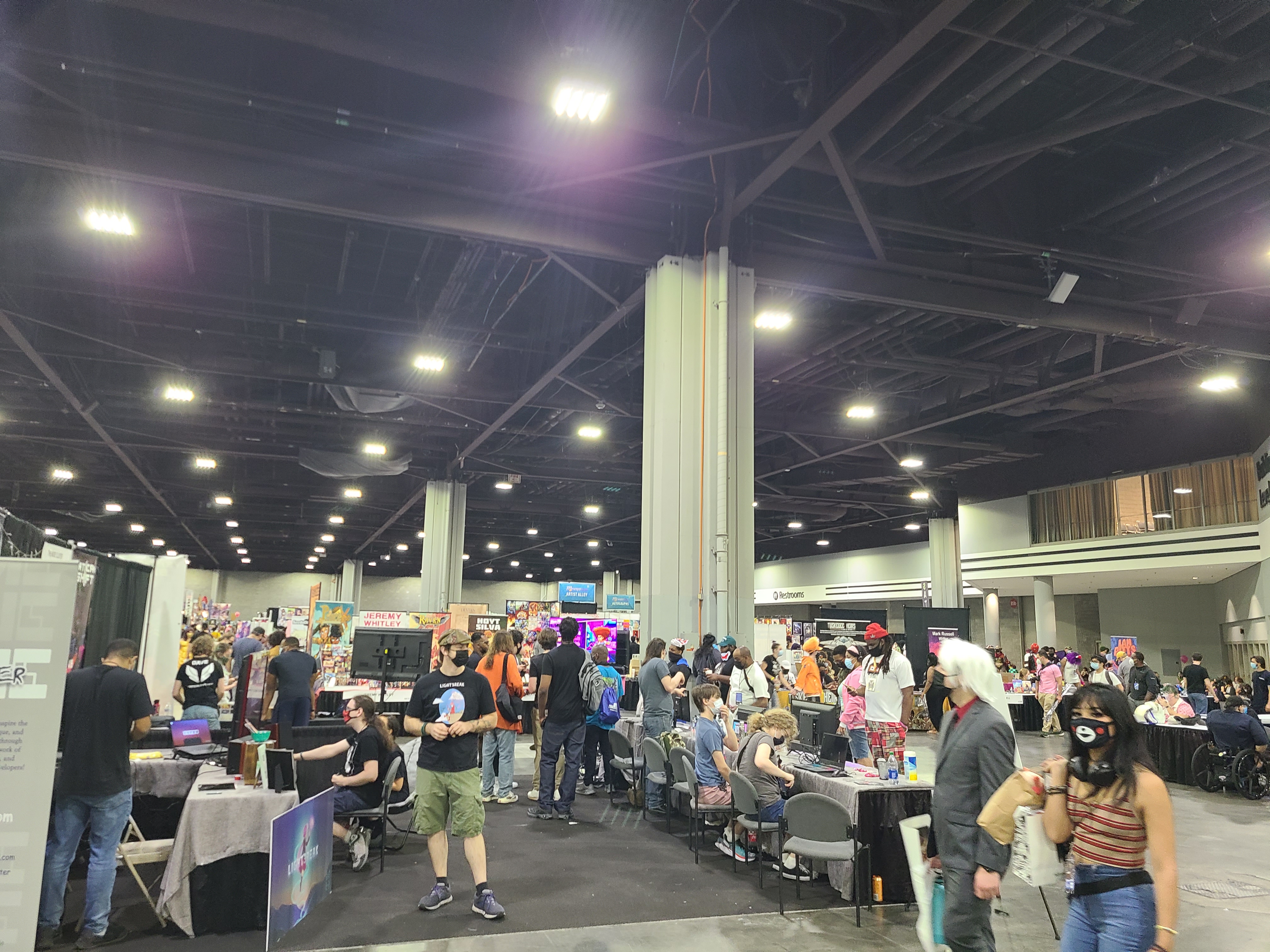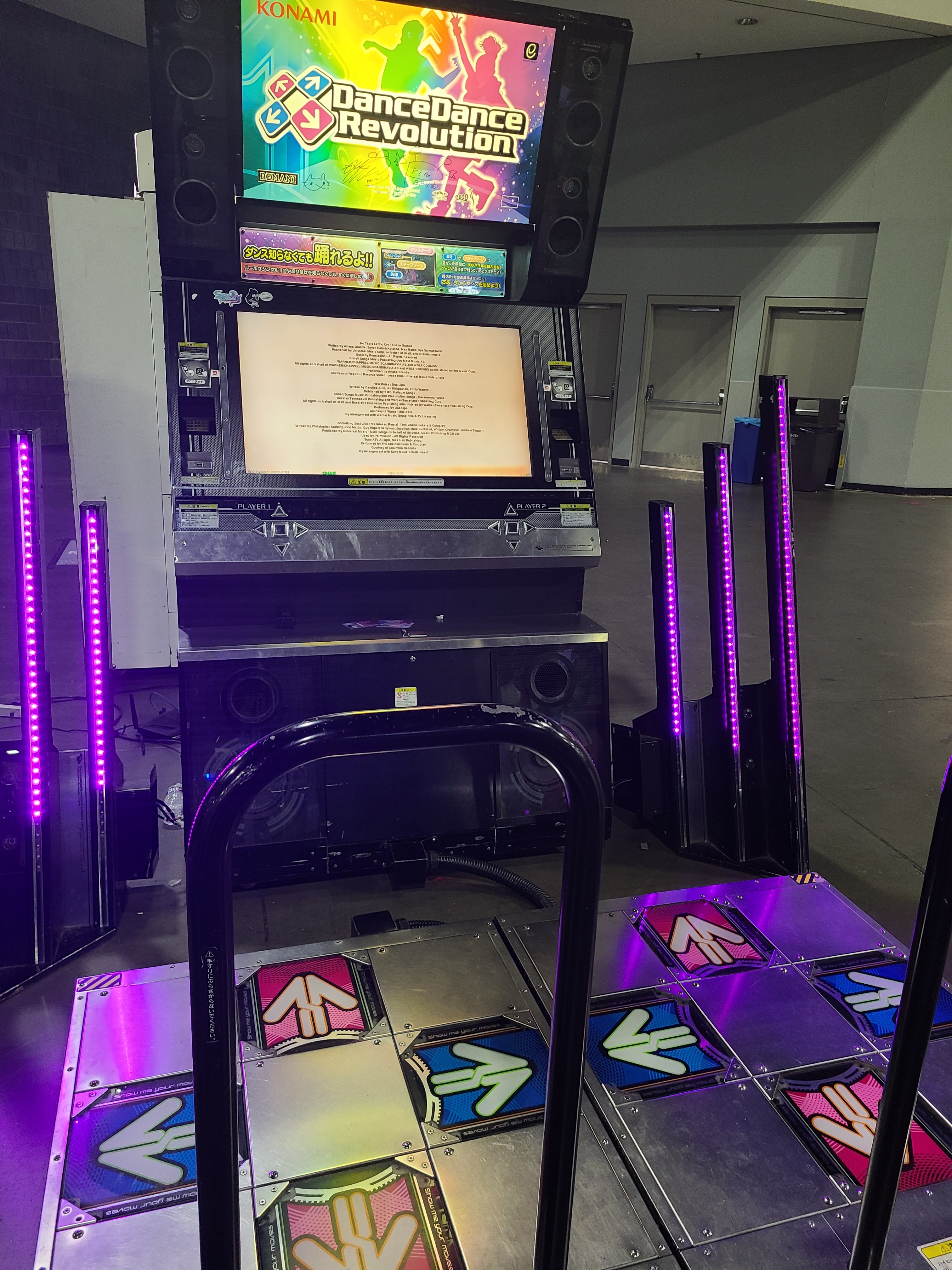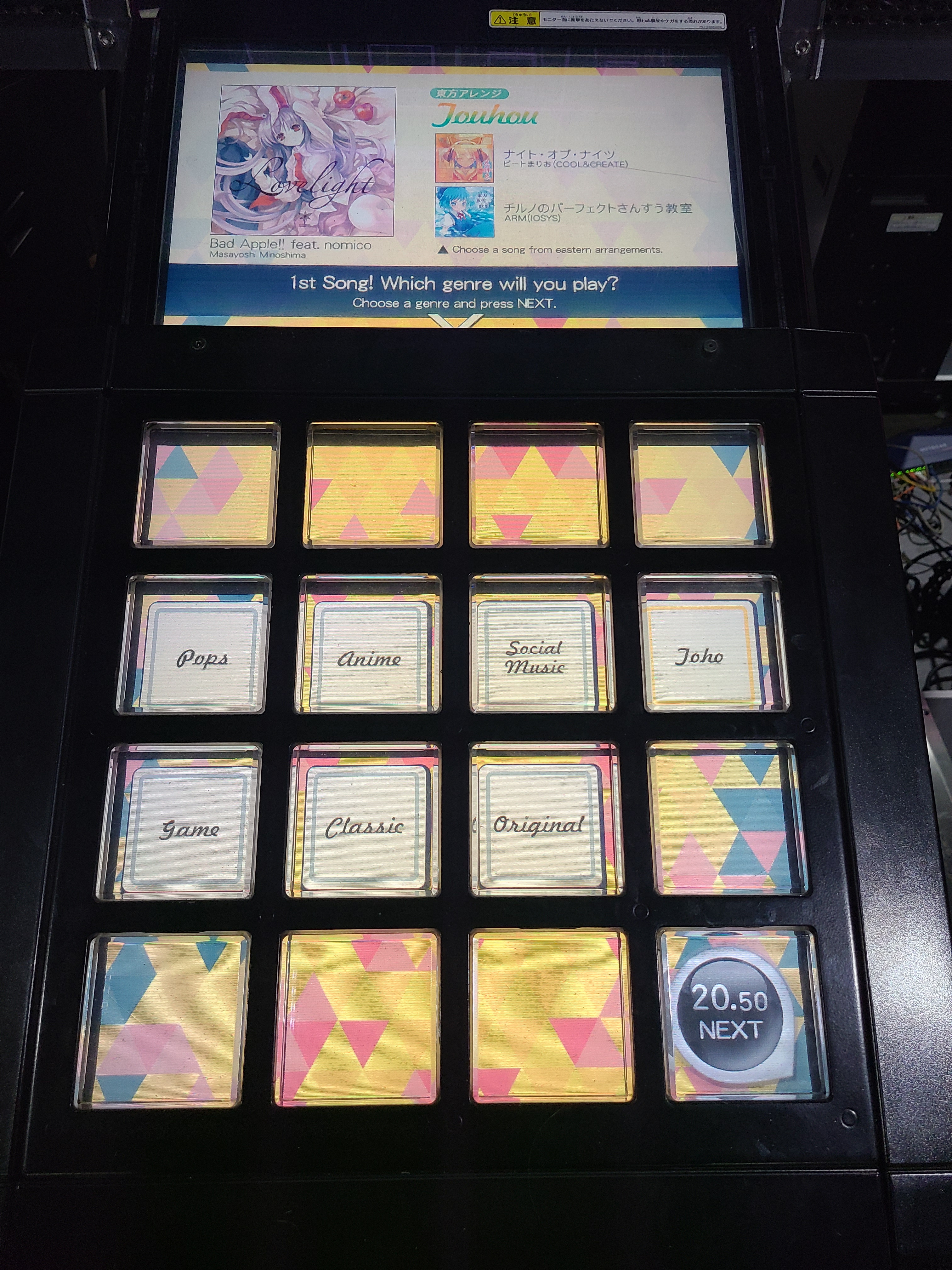 Questions or Comments?
Feel free to send in questions about RE:P and any AG/GAG games (or dev-related questions)! Our Ask Box is always open.
Answering Asks!
what are Zhang's favorite song when he's around
A: Butterfly Lover's Concerto by He Zhanhao (何占豪) and Chen Gang (陈钢).
---